We would like to invite you to a Glowga Party! – Glow in the dark Yoga
Please contact Maggie Chan (647) 200-9525 if you have any questions
Date & Time: July 9 from 11am-12:30pm
Where:  PUSH Markham (9 Wootten Way North, Markham ON L3P2Y2)
This is an interior unit at the Halibut House Plaza (Hwy 7 & Wootten Way). Please call PUSH the morning of if you have any trouble finding us 647-948-9331
Clothing Recommendation: Dress comfortably, we will be moving, jumping and dancing!
Consider wearing dark clothing OR clothing with reflective/neon colours for more glowing fun. Glowing tape will be provided for children to stick onto their clothing.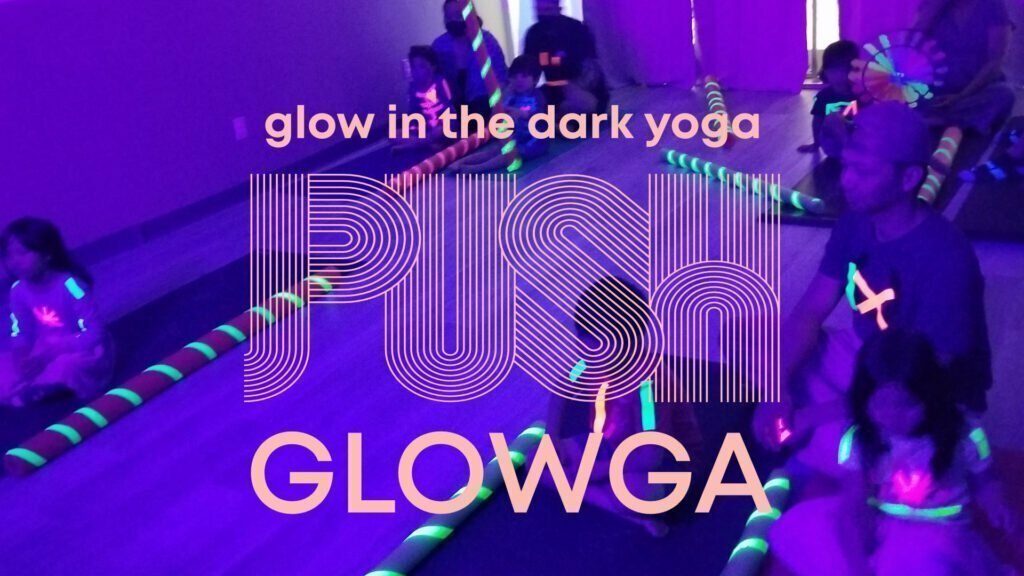 A Glowga Party is a fun yoga and movement party using black light and reflective tape. This party will be a combination of mindfulness activities (i.e. breathing techniques, pom pom fun) and movement activities (i.e. yoga pose dance party/adventure). Your child is sure to have a blast!
For safety reasons the room will be darkened but not completely pitch black. UV / black light will be used during the party.
A staff member on site will provide reflective tape for your child to stick onto their clothing (optional).